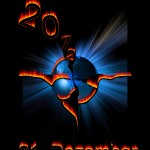 Are you ready for the end of the world? No? Then it´s high time to prepare. It is predicted on the 21st December 2012, that the world will end. A tent or a gas mask can protect me in case of a strong earth quake. [in the video people will see me with a tent and a gas mask] What do you think: will I survive the End of the world with this equipment.
I think it´s better to follow the advice of Jesus. He says: Nobody, but the father in heaven, knows the hour of the World´s End (cfr. mk 13,32).
And if the End of the world surprises me, then I want to trust in the One, who will survive every disaster. I believe, that he then has the power to safe me. It is Jesus, who says: When the stars fall from heaven, they will see me coming in the clouds with great power and glory (cfr. mk 13,36).
Bible: : Dan: 12:1-3; Ps 16(15),5-9; Hebr 10:11-14.18; Mk 13:24-32